Inspire Academies

News Blog

San Antonio Based Inspire Academies Selected to Present at National Charter School Conference in Washington, D.C.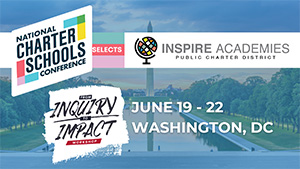 The Inspire Academies public charter district, operated by the nonprofit BRAINATION, Inc. in San Antonio, has been selected as one of only 12 organizations across the country to present a workshop at the National Charter Schools Conference in Washington, D.C. on June 19–22, 2022. Inspire Academies educators will lead this workshop on the district's innovative inquiry-learning model. Participating school leaders will benefit from the model's unique ability to reengage students facing numerous challenges stemming from the pandemic.
Please read our complete National Charter Schools Conference press release for more information.