Inspire Academies

News Blog

Braination Partners with Edgenuity, Leading Provider of K–12 Learning Solutions

At BRAINATION, we're proud to serve some of the most diverse student populations in the country. Whether a student dreams of attending an elite university and obtaining 21 hours of college credit at our Anne Frank Inspire Academy public school, or strives to complete their high school diploma and obtain an industry-recognized career certification at one of our residential campuses, our daily goal is to inspire and empower every student to realize their dreams.

Continuous Improvement of Solutions

Ensuring that each student treads the appropriate individualized learning pathway, BRAINATION continually iterates our education solutions by analyzing performance data, gathering staff and student feedback, and partnering with leading educational organizations. In the spring of each school year, we spend several months reviewing our instructional programs to see where we can better serve students. 

This most recent review aimed to answer several questions:
Are we providing students with rich instructional content in all subjects for grades K–12?
Is the instructional content highly aligned with Texas Essential Knowledge and Skills (TEKS)?
Do our educators receive the data they need to design intervention strategies to help students close learning gaps and master skills and concepts?
Are there resources to meet the needs of all students, including those who are homebound or have IEPs and 504 plans, and require special accommodations?
Will we support students through comprehensive preparation for the State of Texas Assessments of Academic Readiness (STAAR)?
Is BRAINATION ensuring that it is utilizing public funding efficiently by providing effective instructional programming?
Gathering data to answer these questions was a comprehensive team: superintendent, district instructional staff, campus leaders, and third-party resource-review organization Learning List. The group approached various instructional technology vendors to present their programs and possible solutions. 
A Cycle of Student Support
Upon analysis, it was clear that Edgenuity was best able to deliver a rich suite of solutions, providing a continuous cycle of individualized student support across BRAINATION's diverse student population. That cycle begins with assessing all students with accuracy, planning with precision, then implementing targeted intervention and instruction, all the while gathering data to adjust as needed.
We have based the foundation of support on quality data from the comprehensive Renaissance Star Reading and Math assessments obtained from each student every 30 days. This diagnostic data is then sent to Edgenuity Pathblazer and MyPath to develop intervention and acceleration learning plans for each student. We supplemented on-grade-level skills practice with Education Galaxy for elementary students and Courseware for middle and high school students.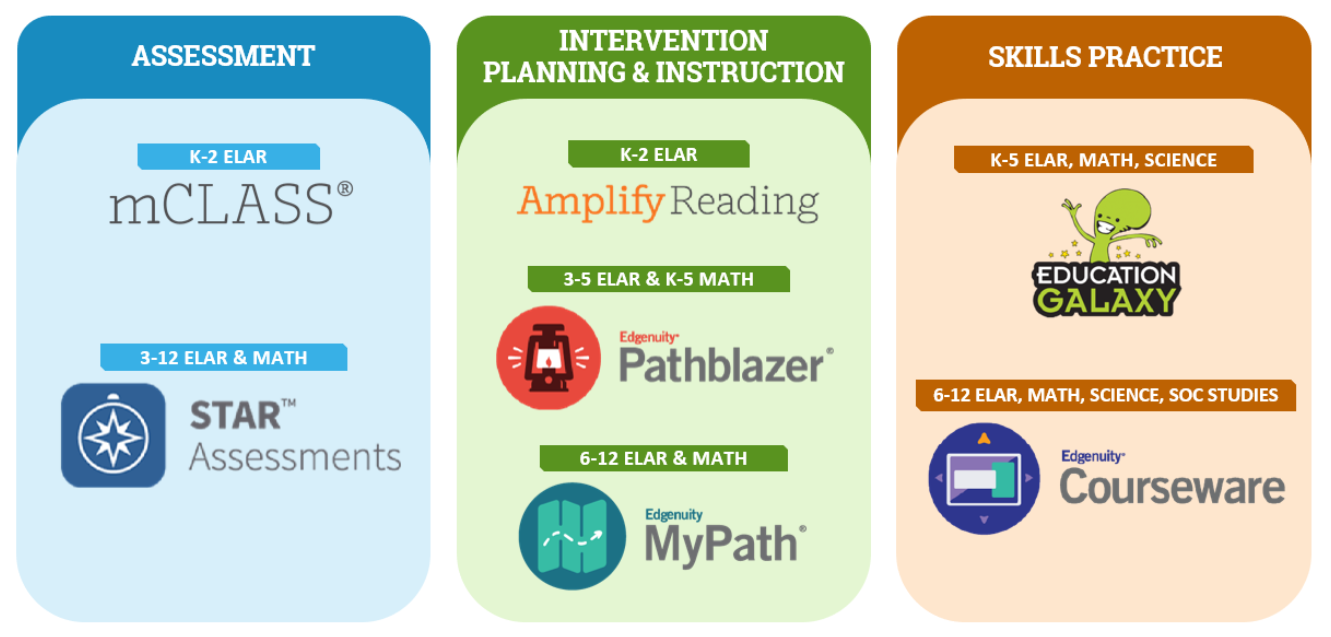 Ongoing Commitment to Greatness
Especially during this volatile time amidst a pandemic, BRAINATION has a commitment to every student, family, and partner facility. All students must have ongoing personalized instruction and support. We rain teachers and facilitators throughout the year to analyze program data, help pinpoint learning gaps, and implement data-driven instructional pathways. We work hand-in-hand with Edgenuity and other education partners to continually assess programs, review the efficacy of implementation, and adjust accordingly. 
Our job as educators is never done, and our dedication to students never waivers. We look forward to continually meeting the challenge of our times, improving and evolving to inspire greatness.